Leading Thunderbird Lodge provides a 16 week culturally based residential treatment program for First Nations and Inuit male youth from across Canada who are between 12-17 years. The holistic treatment program provides personal development in the four areas of self; spiritual, physical, emotional, and mental well-being. Leading Thunderbird Lodge is an accredited facility with the Canadian Accreditation Council. The Lodge is funded through Health Canada's NNADAP/YSAP programs.
Referrals are accepted for First Nations and Inuit youth through any of the following agencies:
Parents/Guardians
Community Addictions Worker/NNADAP Worker/Wellness Worker
School Teacher or Principal
Justice Officials (police, judges, etc.)
Please download the Client Intake Form and be sure to submit it back to us to begin the intake procedure.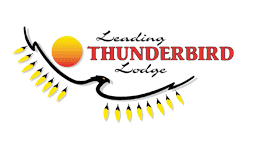 First Nation and Inuit male youth; 12 – 17 years of age
Provide culturally based mental health & addiction treatment programming; promotes emotional, mental, physical and spiritual well-being
Residential treatment offers 3 streams of programming: Clinical (addictions and mental health), Educational and Cultural
Treatment plans are holistic, looking after: spiritual, mental, emotional and physical well-being
The 16 week treatment program is solidly based in First Nations culture and deals with whole person wellness, focusing on growth and development in the areas of: mental, spiritual, physical and emotional well being. Mental Health and addictions are addressed simultaneously through various components of programming that includes:
Pre and Post Assessments
Individual & Group Counselling
Academic & Land Based Education
Cultural and Spiritual Teachings
Life Skills
Therapeutic Recreation
For more information, please contact: Leading Thunderbird Lodge, Mel Taypotat – Outreach/Intake Worker (306) 332-5659 ext. 225 or Cell (306) 331-5963
Substance abuse workshops; suicide prevention workshops (Life is Sacred)
Provide assistance with application process, pre-treatment intake, post-treatment follow-up
Outreach is responsible for seeking referrals for programming through marketing efforts (conferences, community visits, site tours, etc.)
Outreach provides educational and awareness presentations to communities (staff and students) on addictions and suicide prevention and a new focus on prescription drug abuse
For more information on our outpatient programs and workshops, please contact: Leading Thunderbird Lodge, Mel Taypotat – Outreach/Intake Worker (306) 332-5659 ext. 225 or Cell (306) 331-5963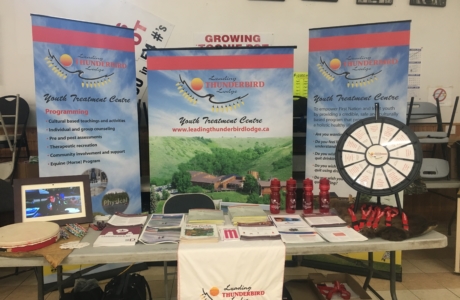 Pekiwewin (Coming Home) House provides selected graduates of the 16 week residential treatment program with an opportunity to continue and complete their secondary education, gain work experience and enhance their life skills.  Residents will continue their healing journey supported by cultural teachings and programming.
Besides being recent treatment graduates, youth residents of the house must be between 16 – 25 years and have a minimum of a grade 9 education level.  Youth are expected to:
continue to be substance free
support peers in residence
contribute to the overall maintenance of the house
For more information, please contact: Leading Thunderbird Lodge, Jann Cyr – Aftercare Housing Manager; House (306) 332-1341 or Cell (306) 331-8663